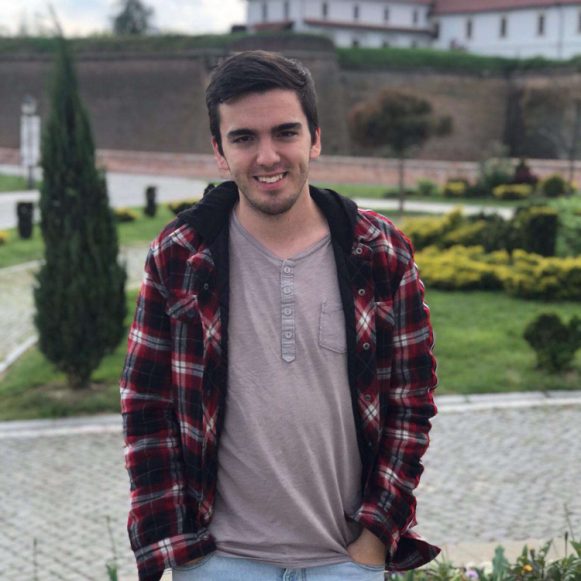 Position: Missionary
Responsibility: Youth ministry leader & Worship leader
Email: costeasamuel16@gmail.com
Phone: +40 766 690 908
Samuel Costea is a missionary of Hope Church responsable for worship as well as youth ministry in Hope Church Craiova and is called by God to proclaim the gospel of Christ. He is passionate about worship and leading others in it. He is also passionate about spreading the gospel of Christ among youth where Christ is less known.
After he finished high school he received the direction of God to go and be involved in ministry in the Southern part of Romania, in areas where God is less known. Following this call, he decided to enroll at the Baptist Theological Institute in Bucharest to equip himself in order to evangelize others.
Right now, he is in his last year of college while being a missionary at Hope Church.
He lives in the city of Craiova, which has a population around 300,000 people, where he is part of a Church planting team.
Vision
I want to see the youth of Craiova get to know and worship God!
Mission
To equip worshipers and make disciples among the youth of Craiova. In order to do this, I use different projects and special events.
You can get involved in Sammy's Ministry in the following ways:
Short-term missions
Join or lead a team to Romania and work alongside us in youth ministry.
Join or lead a worship team to Romania for special worship events.
Prayer Support
Become a prayer partner by adding me to your prayer list.
Join my Facebook group for ways to pray: "Bringing the LIGHT to Romania"
Mentorship
Become a mentor or an encourager through a video call, text message or email.
Financial Support
Become a financial partner by donating $25 a month for my personal needs or for one of my projects.
Promoting
Become one of my ambassadors by representing my ministry in the US, 2-4 hours a month or more.
Your email address will not be published. Required fields are marked *